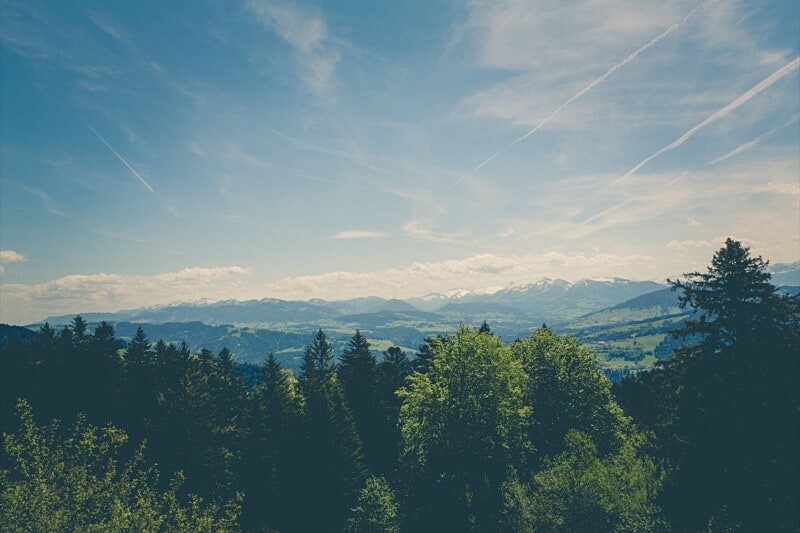 Cookie Policy (English)
Updated 2020.02.28
This site is provided by Teamtailor AB ("Teamtailor") on behalf of Luminor Group. We ("Luminor Group", "we", "us", "our" etc.) use cookies, web beacons and similar technologies (jointly referred to as "cookies") on our websites to improve your experience with us. This Cookie Policy specifically explains how we use cookies on our career site and the associated mobile application (jointly referred to as "Career site"). It explains what cookies are, why they are used, and your choices regarding their usage.
Both Luminor Group and Teamtailor use the cookies on our Career site, and sometimes with the same purpose. Luminor Group and Teamtailor are therefore jointly responsible for the use of some cookies on our Career site.
Please also see our Privacy Policy with regards to how your personal data is handled within the Career site.
What are cookies?
A cookie is a small file containing a string of characters that is sent to your computer when you visit a website. When you visit the site again, the cookie allows that site to recognize your browser. This way, the information you previously provided can be retrieved, so you can easily use customized features. Cookies may store user preferences and other information to enhance your experience on the Career site. Overall, cookies are used to help make websites work in a better and more efficient way.
Why we use cookies
We use cookies for several reasons. Some cookies are required for technical reasons in order for the Career site to operate, and we refer to these as "strictly necessary". Other cookies enable us to track and target the interests of our candidates to enhance their experience on the Career site.
What types of cookies we use and how we use them
The full list of cookies served through our Career site and the purposes they perform are listed here. These cookies include:
Strictly necessary cookies: These cookies are necessary to provide you with services available through our Career Site.
Analytics cookies: These cookies collect information that is used either in aggregate form to help us understand how our Career site is being used or how effective our marketing campaigns are, or to help us customise our Career site for you.
Preference cookies: These cookies allow the Career site to remember information that changes the way the Career site behaves or looks, such as your preferred language or the region you are in. Loss of information stored in a preference cookie may make the experience less functional but should not prevent it from working.
Marketing cookies: These cookies are used to make advertising messages more relevant to you. They perform functions like preventing the same ad from continuously reappearing, ensuring that ads are properly displayed for advertisers, and in some cases selecting advertisements that are based on your interests.
Third party cookies
Trusted third parties are used to serve advertising through our Career site. These companies may use information about your visits to the Career site to provide relevant advertisements about services or jobs that you may be interested in. They may also employ technology to measure the effectiveness of advertisements (analytics). The information collected by these third parties does not enable us or them to identify your name, contact details or other personally identifying details unless you choose to provide these.
Luminor Group and Teamtailor have no influence on the cookie settings on third party websites. Please visit these here to obtain further information on how they use cookies.
Your control of cookies
You have the right to decide whether to accept or reject cookies. You can exercise your cookie preferences by indicating your preference on the cookie banner that appears when you enter our Career site.
Aside from exercising your cookie preferences through our cookie banner, you can restrict (block or delete) cookies by altering your browser settings. If you restrict the use of cookies, you will not be able to use all the interactive features on our Career site. The way in which you can restrict cookies varies from browser to browser. You should therefore visit your web browser's help menu for more information.
Notwithstanding the aforesaid, you cannot restrict or reject cookies that are strictly necessary to deliver the Career site to you.
How often will we update this Cookie Policy?
We may update this Cookie Policy from time to time to reflect changes to the cookies we use or for other legal or regulatory reasons. Please visit this Cookie Policy regularly to stay informed about our use of cookies and related technologies.
The date at the top of this Cookie Policy indicates when it was last updated.
List of active cookies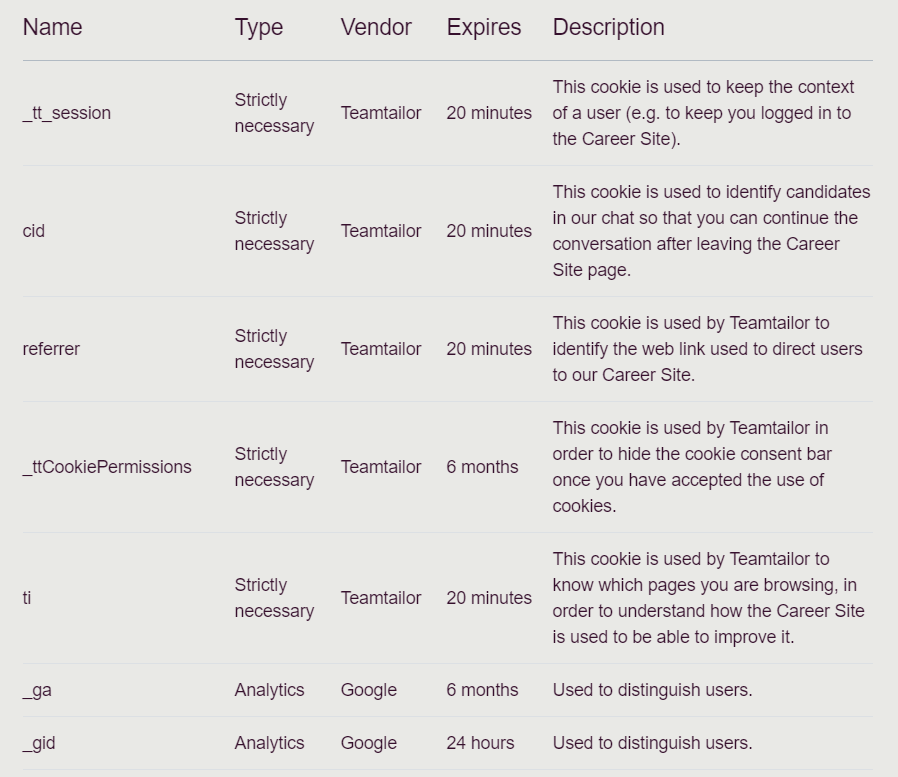 Contact us
If you have any questions about this Cookie Policy, please email Luminor Group at barbora.guobyte-navicke@luminorgroup.com.
Slapukų politika (LT)
Šią svetainę Luminor Group vardu užtikrina Teamtailor AB ("Teamtailor"). Mes ("Luminor Group", "mes", "mus", "mūsų" ir t.t.) savo interneto svetainėse naudojame slapukus, žiniatinklio indikatorius ir panašias technologijas (kartu vadinamas "slapukais"), kad pagerintume Jūsų patirtį su mumis. Ši Slapukų politika konkrečiai paaiškina, kaip mes naudojame slapukus savo karjerai skirtoje interneto svetainėje ir su ja susijusioje mobiliojoje programėlėje (kartu vadinama "Karjeros svetaine"). Ten paaiškinama, kas yra slapukai, kodėl jie naudojami, taip pat jūsų naudojimo pasirinkimai.
Ir "Luminor Group", ir "Teamtailor" naudoja slapukus mūsų Karjeros svetainėje, kartais turėdami tą patį tikslą. Todėl "Luminor Group" ir "Teamtailor" yra kartu atsakingos už kai kurių slapukų naudojimą mūsų Karjeros svetainėje.
Taip pat susipažinkite su mūsų Privatumo politika, kaip tvarkomi Jūsų asmeniniai duomenys Karjeros svetainėje.
Kas yra slapukai?
Slapukas yra mažas failas, kuriame yra simbolių seka, siunčiama į Jūsų kompiuterį, apsilankius svetainėje. Kai pakartotinai lankotės svetainėje, slapukas leidžia svetainei atpažinti Jūsų naršyklę. Tokiu būdu galima gauti anksčiau pateiktą informaciją, kad galėtumėte lengvai naudotis pritaikytomis funkcijomis. Slapukuose gali būti saugomi vartotojo nustatymai ir kita informacija, siekiant pagerinti Jūsų patirtį Karjeros svetainėje. Apskritai, slapukai naudojami, siekiant padėti tinklalapiams veikti geriau ir efektyviau.
Kodėl mes naudojame slapukus
Mes naudojame slapukus dėl kelių priežasčių. Kai kurie slapukai reikalingi dėl techninių priežasčių, kad Karjeros svetainė galėtų veikti, ir mes juos vadiname "būtinais". Kiti slapukai leidžia mums sekti ir nukreipti dėmesį į mūsų kandidatų interesus, siekiant pagerinti Jų patirtį Karjeros svetainėje.
Kokius slapukus naudojame ir kaip mes juos naudojame
Čia pateiktas visas slapukų, pateiktų mūsų Karjeros svetainėje, sąrašas ir jų vykdomi tikslai. Į šiuos slapukus įeina:
• Griežtai būtini slapukai: Šie slapukai yra būtini, norint suteikti Jums paslaugas, pateikiamas mūsų Karjeros svetainėje.
• Analitiniai slapukai: Šie slapukai renka informaciją, kuri naudojama apibendrinta forma, siekiant padėti mums suprasti, kaip naudojama mūsų Karjeros svetainė, ar kiek veiksminga yra mūsų rinkodaros kampanija, arba padėti pritaikyti mūsų Karjeros svetainę Jums.
• Pirmenybiniai slapukai: Šie slapukai leidžia Karjeros svetainei atsiminti informaciją, pakeičiančią Karjeros svetainės elgseną ar išvaizdą, pvz., Jūsų pasirinktą kalbą ar regioną, kuriame esate. Dėl prarastos informacijos, saugomos pirmenybiniame slapuke, patirtis gali būti mažiau funkcionali, tačiau neturėtų užkirsti kelio jai veikti.
• Rinkodaros slapukai: Šie slapukai naudojami reklaminiams pranešimams, kurie Jums yra svarbūs. Jie atlieka tokias funkcijas, kaip: neleidžia nuolat rodyti to paties skelbimo, užtikrina, kad skelbimai būtų tinkamai rodomi reklamuotojams, ir kai kuriais atvejais pasirenka skelbimus pagal Jūsų pomėgius.
Trečiųjų šalių slapukai
Patikimos trečiosios šalys reklamuojasi mūsų karjeros svetainėje. Šios įmonės gali naudoti informaciją apie Jūsų apsilankymus Karjeros svetainėje, kad pateiktų atitinkamą reklamą apie paslaugas ar darbus, kurie Jus gali sudominti. Jos taip pat gali naudoti technologiją reklamos (analizės) efektyvumui įvertinti. Šių trečiųjų šalių surinkta informacija neleidžia mums ar joms identifikuoti Jūsų vardo, kontaktinės informacijos ar kitos asmenį identifikuojančios informacijos, nebent nuspręsite ją pateikti.
"Luminor Group" ir "Teamtailor" neturi įtakos slapukų nustatymams trečiųjų šalių svetainėse. Norėdami gauti daugiau informacijos apie tai, kaip jie naudoja slapukus, apsilankykite ten.

Slapukų kontrolė
Jūs turite teisę nuspręsti, priimti ar atsisakyti slapukų. Savo slapukų pasirinkimu galite naudotis, nurodydami savo pasirinkimą ant slapukų reklamjuostės, kuri pasirodo, įėjus į mūsų Karjeros svetainę.
Be to, kad naudojatės savo slapukų nustatymais per mūsų slapukų reklamjuostę, galite apriboti (blokuoti ar ištrinti) slapukus, keisdami savo naršyklės nustatymus. Jei apribosite slapukų naudojimą, negalėsite naudotis visomis interaktyviomis funkcijomis mūsų Karjeros svetainėje. Slapukų apribojimo būdas įvairiose naršyklėse skiriasi, todėl turėtumėte apsilankyti žiniatinklio naršyklės pagalbos meniu, kad gautumėte daugiau informacijos.
Nepaisant to, kas paminėta aukščiau, Jūs negalite apriboti ar atsisakyti slapukų, kurie yra būtini, norint Jums užtikrinti Karjeros svetainę.
Kaip dažnai mes atnaujinsime šią Slapukų politiką?
Retkarčiais mes galime atnaujinti šią Slapukų politiką, kad atspindėtume mūsų naudojamų slapukų pakeitimus arba dėl kitų teisinių ar norminių priežasčių. Prašome reguliariai perskaityti šią Slapukų politiką, kad būtumėte informuoti apie mūsų naudojamus slapukus ir susijusias technologijas.
Šios Slapukų politikos viršuje esanti data nurodo, kada ji paskutinį kartą buvo atnaujinta.
Aktyvių slapukų sąrašas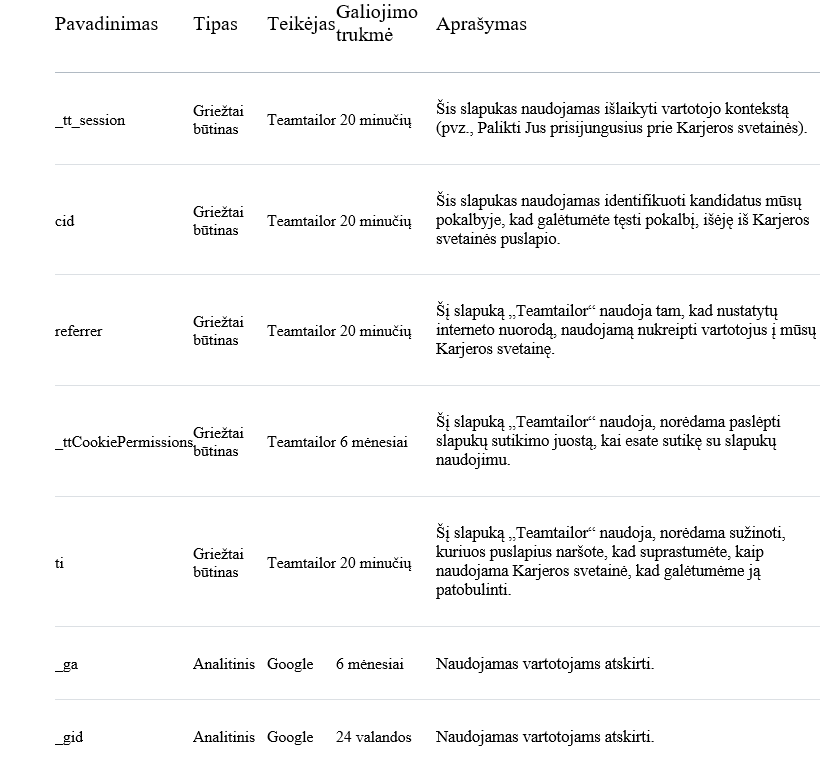 Susisiekite su mumis
Jei turite klausimų apie šią Slapukų politiką, prašome rašyti Luminor Group el. paštu barbora.guobyte-navicke@luminorgroup.com.
​ Sīkdatņu politika (LV)
Šo vietni "Luminor" grupas vārdā nodrošina "Teamtailor AB" ("Teamtailor"). Lai uzlabotu Jūsu lietotāja pieredzi, mēs (""Luminor" grupa", "mēs", "mūs", "mūsu" u.c.) savās tīmekļa vietnēs izmantojam sīkdatnes, tīmekļa bākas un citas tamlīdzīgas tehnoloģijas (kopā sauktas "sīkdatnes"). Šajā Sīkdatņu politikā ir konkrēti izklāstīts, kā mēs savā karjeras vietnē un ar to saistītajā mobilajā lietotnē (kopā sauktas "Karjeras vietne") izmantojam sīkdatnes. Tajā ir izskaidrots, kas ir sīkdatnes, kāpēc tās izmanto, un ir izklāstītas Jums pieejamās izvēles iespējas to izmantošanā.

Sīkdatnes mūsu Karjeras vietnē izmanto gan "Luminor" grupa, gan "Teamtailor", un reizēm ar vienādu nolūku. Tieši tāpēc "Luminor" grupa un "Teamtailor" ir kopīgi atbildīgi par sīkdatņu izmantošanu mūsu Karjeras vietnē.
Lūgums iepazīties arī ar mūsu Privātuma politiku, lai uzzinātu, kā Karjeras vietnes ietvaros notiek Jūsu personas datu apstrāde.


Kas ir sīkdatnes?
Sīkdatne ir neliela datne, kas ietver simbolu virkni, ko nosūta uz Jūsu datoru, kad apmeklējat tīmekļa vietni. Jums atkārtoti apmeklējot konkrēto vietni, sīkdatne ļauj vietnei atpazīt Jūsu tīmekļa pārlūku. Tādējādi ir iespējams izgūt Jūsu iepriekš sniegto informāciju, lai varat ērti izmantot pielāgotas funkcijas. Sīkdatnes var uzglabāt lietotāja preferences un citu informāciju, uzlabojot Jūsu lietotāja pieredzi Karjeras vietnē. Vispārīgi sīkdatnes izmanto, lai nodrošinātu labāku un efektīvāku vietņu darbību.


Kāpēc mēs izmantojam sīkdatnes

Mēs izmantojam sīkdatnes vairāku iemeslu dēļ. Dažas sīkdatnes ir nepieciešamas tehniskos nolūkos, lai Karjeras vietne varētu funkcionēt, un mēs tās dēvējam par "stingri nepieciešamām sīkdatnēm". Citas sīkdatnes ļauj mums izsekot un integrēt mūsu kandidātu intereses, uzlabojot to lietotāja pieredzi Karjeras vietnē.


Kādu veidu sīkdatnes mēs izmantojam, un kā tās tiek izmantotas
Pilns mūsu Karjeras vietnē izmantoto sīkdatņu saraksts un to izmantošanas nolūki ir pieejami šeit. Šīs sīkdatnes ietver:
• Stingri nepieciešamās sīkdatnes: Šīs sīkdatnes ir nepieciešamas, lai sniegtu Jums mūsu Karjeras vietnē pieejamos pakalpojumus.
• Analītiskās sīkdatnes: Šīs sīkdatnes apkopo informāciju, ko izmantojam kopsavilkuma formā, lai labāk izprastu, kā mūsu Karjeras vietne tiek izmantota, vai cik efektīvas ir mūsu mārketinga kampaņas, vai lai pielāgotu mūsu Karjeras vietni tieši Jums.
• Preferences sīkdatnes: Šīs sīkdatnes ļauj Karjeras vietnei atcerēties informāciju, kas maina Karjeras vietnes darbību vai izskatu, piemēram, Jūsu preferences valodu vai Jūsu atrašanās reģionu. Preferences sīkdatnes saglabātās informācijas zaudēšana var padarīt lietotāja pieredzi mazāk funkcionālu, taču tam nevajadzētu liegt vietnes darbību.
• Mārketinga sīkdatnes: Šīs sīkdatnes izmanto Jums piemērotāku mārketinga paziņojumu nodrošināšanai. Šīs sīkdatnes veic tādas funkcijas kā vienas un tās pašas reklāmas ilgstošas atkārtošanās novēršana, nodrošinot reklāmas devēju reklāmas pienācīgu atspoguļošanu, kā arī atsevišķos gadījumos uz Jūsu interesēm balstītu reklāmu atlasīšanu.


Trešo pušu sīkdatnes
Reklāmas publicēšanai mūsu Karjeras vietnē ir iesaistītas uzticamas trešās puses. Šie uzņēmumi var izmantot informāciju par Jūsu apmeklējumiem Karjeras vietnē, sniedzot atbilstošu reklāmu par pakalpojumiem vai vakancēm, kas Jums varētu interesēt. Tāpat šīs trešās puses var izmantot tehnoloģijas reklāmu efektivitātes mērīšanai (analītika). Šo trešo pušu apkopotā informācija neļauj mums vai šīm trešajām pusēm identificēt Jūsu vārdu un uzvārdu, kontaktinformāciju vai citus personu identificējošus datus, ja vien Jūs neizvēlaties sniegt šādus datus.
"Luminor" grupa un "Teamtailor" nevar ietekmēt sīkdatņu iestatījumus trešo pušu tīmekļa vietnēs. Lūgums izskatīt šeit, lai iegūtu sīkāku informāciju par to, kā šīs trešās puses izmanto sīkdatnes.


Jūsu kontrole pār sīkdatnēm
Jums ir tiesības izlemt, vai vēlaties piekrist sīkdatņu izmantošanai vai to noraidīt. Tāpat varat izmantot savas sīkdatņu preferences, norādot savas preferences sīkdatņu reklāmkarogā, kas parādās, apmeklējot mūsu Karjeras vietni.
Papildus sīkdatņu preferenču uzstādīšanai ar sīkdatņu reklāmkaroga starpniecību, Jūs varat ierobežot (nobloķēt vai izdzēst) sīkdatnes, izmainot savas pārlūka iestatījumus. Ierobežojot sīkdatņu izmantošanu, Jūs nevarēsiet izmantot visas mūsu Karjeras vietnes interaktīvās funkcijas. Veids, kādā varat ierobežot sīkdatņu izmantošanu, atšķiras atkarībā no izmantotā tīmekļa pārlūka. Tāpēc Jums jāizskata sava tīmekļa pārlūka palīdzības izvēlne, lai iegūtu sīkāku informāciju.
Neņemot vērā iepriekš minēto, Jūs nevarat ierobežot vai noraidīt tādu sīkdatņu izmantošanu, kas ir stingri nepieciešamas Karjeras vietnes funkcionēšanas nodrošināšanai.
Cik bieži mēs atjaunināsim šo Sīkdatņu politiku?
Mēs šo Sīkdatņu politiku varam periodiski atjaunināt, lai atspoguļotu mūsu izmantoto sīkdatņu izmaiņas vai citu juridisku vai normatīvu iemeslu dēļ. Lūgums regulāri pārskatīt šo Sīkdatņu politiku informētībai par to, kā mēs izmantojam sīkdatnes un saistītās tehnoloģijas.
Šīs Sīkdatņu politikas augšdaļā norādītais datums atspoguļo, kad ir veikta tās pēdējā atjaunināšana.

Aktīvo sīkdatņu saraksts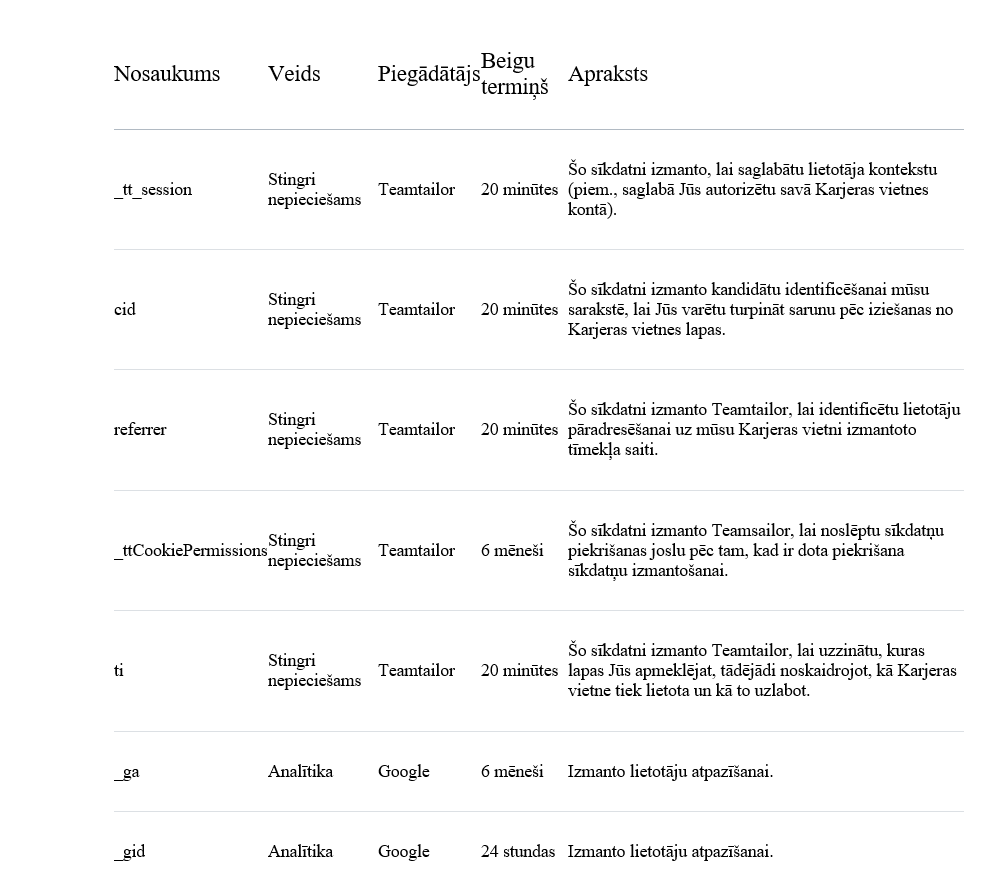 Sazinieties ar mums
Ja Jums rodas jautājumi par šo Sīkdatņu politiku, sazinieties ar "Luminor" grupu, rakstot uz e-pasta adresi barbora.guobyte-navicke@luminorgroup.com.
Küpsiste kasutamise põhimõtted (EE)
Seda veebisaiti haldab Luminori kontserni nimel Teamtailor AB (edaspidi "Teamtailor"). Meie (edaspidi "Luminori kontsern", "meie", jne) kasutame oma veebisaitidel küpsiseid, veebimajakaid ja sarnast tehnoloogiat (edaspidi koos "küpsised"), et parandada teie kasutajakogemust. Nendes küpsiste kasutamise põhimõtetes selgitatakse üksikasjalikult, kuidas me kasutame küpsiseid oma värbamissaidil ja sellega seotud mobiilirakenduses (edaspidi koos "värbamissait"). Nendes selgitatakse, mis on küpsised, miks neid kasutatakse ja millised on teie võimalused seoses nende kasutamisega.
Värbamissaidi küpsiseid kasutavad nii Luminori kontsern kui ka Teamtailor, mõnikord samal eesmärgil. Luminori kontsern ja Teamtailor vastutavad seega koos mõningate küpsiste kasutamise eest meie värbamissaidil.
Vaadake ka meie isikuandmete töötlemise põhimõtteid, et lugeda, kuidas teie isikuandmeid värbamissaidil töödeldakse.
Mis on küpsised?
Küpsis on väike tähemärkide jada sisaldav fail, mis salvestatakse teie arvutisse, kui te veebisaiti külastate. Kui te järgmisel korral saiti külastate, võimaldab küpsis tunda ära teie veebilehitseja. Nii saab veebisait kasutada teie varemalt esitatud andmeid, et hõlbustada kohandatud funktsioonide kasutamist. Küpsiste abil saab taastada kasutaja eelistusi ja muud teavet, et parandada värbamissaidi kasutamise kogemust. Üldiselt kasutatakse küpsiseid selleks, et veebisait töötaks paremini ja tõhusamini.
Miks me kasutame küpsiseid?
Me kasutame küpsiseid mitmel põhjusel. Mõnda küpsist on vaja tehnilistel põhjustel, et meie värbamissait toimiks, ja me viitame neile kui hädavajalikele küpsistele. Teised küpsised võimaldavad meil jälgida kandidaatide huve ja parandada meie värbamissaidi kasutamise kogemust.
Mis liiki küpsiseid me kasutame ja kuidas?
Küpsiste täielik nimekiri on saadaval värbamissaidil ja nende kasutamise eesmärgid on kirjeldatud siin. Nende küpsiste alla kuuluvad:
• Hädavajalikud küpsised. Need küpsised on vajalikud, et saaksime teile oma värbamissaidi kaudu teenuseid osutada.
• Analüütilised küpsised. Need küpsised koguvad teavet, mida kasutatakse kogumina, et aidata meil mõista, kuidas meie värbamissaiti kasutatakse ja kui tõhusad on turunduskampaaniad, või selleks, et kohandada oma värbamissaiti teie heaks.
• Eelistuste küpsised. Need küpsised võimaldavad värbamissaidil meeles pidada teavet, mis muudab seda, kuidas värbamissait käitub või välja näeb, näiteks teie keele-eelistusi ja piirkonda, kus te asute. Eelistuste küpsises sisalduva teabe kaotsiminek võib häirida mõningate funktsioonide kasutamist, kuid veebisait peaks sellegipoolest toimima.
• Turundusküpsised. Neid küpsiseid kasutatakse selleks, et reklaamid oleksid teie jaoks asjakohasemad. Need täidavad selliseid funktsioone nagu sama reklaami korduva ilmumise ennetamine, reklaami õigesti kuvamine ning mõnel juhul teie huvidel põhinevate reklaamide valimine.
Kolmandate isikute küpsised
Meie värbamissaidil osutavad reklaamiteenuseid usaldusväärsed kolmandad isikud. Need ettevõtted võivad kasutada teavet teie käikude kohta värbamissaidile, et teha reklaami toodetele ja teenustele, mis võiksid teile huvi pakkuda. Nad võivad kasutada ka tehnoloogiat reklaamide tõhususe mõõtmiseks (analüütikat). Nende kolmandate isikute kogutud andmed ei võimalda meil ega neil tuvastada teie nime, kontaktandmeid või muid isiklikke andmeid, välja arvatud siis, kui soovite neid ise esitada.
Luminori kontsernil ja Teamtailoril ei ole kontrolli kolmandate isikute veebisaitide küpsiste seadete üle. Palun vaadake neid siin, et saada lisateavet nende küpsiste kasutamise kohta.


Küpsiste haldamine
Teil on õigus otsustada, kas nõustute küpsistega või loobute neist. Küpsiste seadeid saab muuta, märkides ära oma eelistuse küpsiste ribal, mis kuvatakse siis, kui te meie värbamissaidile sisenete.
Lisaks küpsiste riba abil eelistuste märkimisele saate küpsiseid piirata (keelata või kustutada) veebilehitseja seadetest. Küpsiste kasutamise piiramise korral ei saa te kasutada kõiki meie värbamissaidi interaktiivseid funktsioone. Veebilehitseja kaudu küpsistest keeldumise viisid on eri lehitsejates erinevad. Et saada lisateavet, vaadake oma veebilehitseja abimenüüd.
Sellegipoolest ei saa te piirata ega keelata küpsiseid, mis on värbamissaidi kasutamiseks hädavajalikud.
Kui tihti me neid küpsiste kasutamise põhimõtteid ajakohastame?
Võime neid küpsiste kasutamise põhimõtteid aeg-ajalt värskendada, et näiteks kajastada meie kasutatavates küpsistes tehtud muudatusi või teistel juriidilistel või regulatiivsetel põhjustel. Soovitame küpsiste kasutamise põhimõtteid regulaarselt uuesti üle lugeda, et oleksite meie küpsiste ja nendega seotud tehnoloogiaga kursis.
Küpsiste kasutamise põhimõtete ülaosas viidatud kuupäev tähistab uuendamise aega.


Aktiivsete küpsiste nimekiri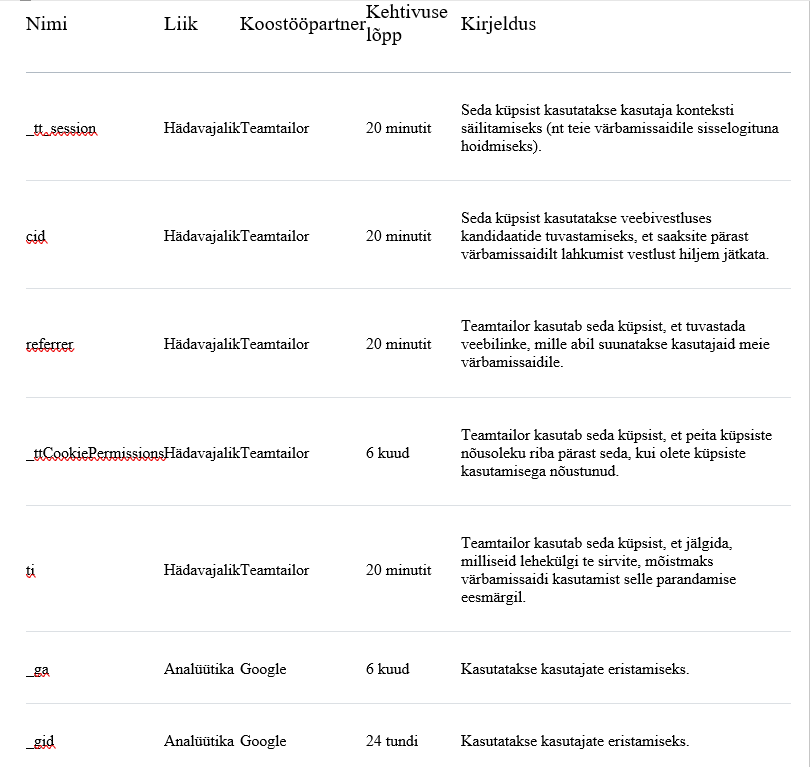 Võtke meiega ühendust
Kui teil on nende küpsiste kasutamise põhimõtete kohta küsimusi, võtke Luminori kontserniga ühendust aadressil barbora.guobyte-navicke@luminorgroup.com.